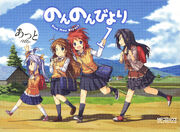 Non Non Biyori (のんのんびより, Non Non Biyori?) is a manga series by Atto, serialized on Media Factory's Monthly Comic Alive magazine from November 2009. Manga vs Anime comparison can be found here.
Setting and Conception
The story is made by reorganizing Atto's former work "Toko-toko" (とことこ, "Toko-toko"?), so the basic setting is the same. Also, some characters of the author's past works appear in the story.
The story set in the countryside village of Asahigaoka, which is pretty far from large cities like Tokyo. Stores are hard to reach and deliveries from large cities always arrive in days or weeks.
Plot and Summary
This story revolves around Hotaru Ichijō (一条 蛍, Hotaru Ichijō?), a 10-years old girl who transferred from Tokyo, discovering the life in countryside and plays with her new friends.
The main part of the manga is that it revolves around 4 girls and their daily lives.
Characters
Main Characters
A fifth grade elementary school student who transfers into Asahigaoka Branch School from Tokyo. She was born in May 28. She is quite tall for her age and has a crush on Komari. She had ever come to Asahigaoka several times because her relatives live near her house.
A first grade elementary school student. She was born in December 3. Whilst generally acting her age, she is often quite perceptive. She often ends her sentences with 'na non'. She keeps a racoon dog named "An ingredient used in cooking" (

具

Gu

?

).
A first-year middle school student (seventh grade). She was born in January 24. Being a lazy and mischievous girl, she is taller than Komari, her older sister.
A second-year middle school student and Natsumi's older sister. She was born in September 14. She is quite short, which she has a complex about, and used to prove that she is an adult.
Gallery
Community content is available under
CC-BY-SA
unless otherwise noted.