Non Non Biyori is an anime television series by Silver Link based on the manga series by Atto, which follows the lives of a group of children who live in the countryside. Manga vs Anime comparison can be found here. Information about the voice actors can be found here.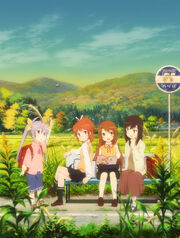 The first series aired in Japan between October 7 and December 23, 2013 and was simulcast by Crunchyroll. An original video animation episode was bundled with the seventh manga volume released on July 23, 2014. The opening theme is "Nana-iro Biyori" (なないろびより, lit. Seven-colored Weather?) by nano.RIPE, and the ending theme, composed by Zaq, is "Non Non Biyori" (のんのん日和, "Non Non Biyori"?) sung by Rie Murakawa, Ayane Sakura, Kana Asumi and Kotori Koiwai.
A second season, Non Non Biyori Repeat, began airing from July 6, 2015. The opening theme is "Kodama Kotodama" (こだまことだま, lit. Echoing Words?) by Nano Ripe and the ending theme is "Okaeri" (おかえり, lit. Welcome Home?) by Rie Murakawa, Ayane Sakura, Kana Asumi and Kotori Koiwai.
This is the list of episodes of the Non Non Biyori anime series.
In the countryside village of Asahigaoka, a fifth grade elementary school girl named Hotaru Ichijō moves in from Tokyo and transfers into the village's branch school, which consists of only four other students; a first grader named Renge Miyauchi and three middle school siblings, Natsumi, Komari and Suguru Koshigaya, along with their teacher, Renge's older sister Kazuho. After school, Renge invites Hotaru and the others to her house, where she shows off her pet tanuki. The next day, the girls take Hotaru to a blooming cherry blossom tree to eat their sakura mochi , though they end up missing the bus home on the way back.
Hotaru develops something of a crush on Komari due to her short stature and feels happy after receiving some candy from her. Later, Komari invites Hotaru to come hang out with her, although Hotaru's choice of clothing causes Komari to mistake her for a unknown adult tourist from Tokyo. The two go to a candy store together, with Komari unaware she is actually hanging out with Hotaru the entire time.
The class goes on a school trip to help out in a rice field, where Natsumi and Komari end up getting stuck in the mud. Later that night, Komari gets frightened after seeing a scary movie, which is not helped by Natsumi. After getting into a fight with her mother, Natsumi runs away from home with Komari in tow and goes to her secret hideout. They eventually spot a cat that had put Natsumi in trouble in the first place, but leave her alone when they see she is feeding her family and eventually head home.
As summer vacation begins, Renge's older sister Hikage comes home from her school in Tokyo, hoping to impress the others with her know-how about city life only for Hotaru to outshine her. Later, Renge meets another girl her age named Honoka Ishikawa, who she quickly become friends with. After spending several days playing with Honoka, Renge is saddened when she learns Honoka had to suddenly leave due to her father's work. However, she cheers up a week later after receiving a letter from Honoka saying she'll come back next summer.
Hotaru and Renge are invited to the Koshigaya's house for breakfast. Afterwards, the girls, accompanied by Kazuho, go to the beach, where Komari's height leads her to be mistaken for a lost child. On their way home, the girls stop at a railside noodle restaurant, where a prank by Natsumi on Komari backfires due to Renge's innocence. They manage to catch the last train home on time, but accidentally leave Kazuho behind.
Natsumi gets chewed out by her mother over her poor school grades whilst also trying to hide her poor test results from her. Afterwards, the girls visit Hotaru, who attempts to hide the vast number of handmade Komari plushies in her room. This ultimately fails, but she manages to pass them off as part of a school project. Later that night, the gang have a test of courage at the shrine, which proves a bit too much for Komari.
With Kazuho absent at the start of the new semester, the girls try and find ways to pass the time in class. Later, Hotaru and Renge try and catch a rabbit that had escaped from its pen, only for it to lock them inside the pen themselves, though they are eventually rescued by Kazuho. Afterwards, Renge visits the candy store run by Kaede Kagayama, who finds her to be a handful.
Hotaru gets along with the Koshigaya family's next door neighbour, Konomi Fujimiya, whilst Komari laments that the two seem more grown up than she is. Later, Komari joins Hotaru and Renge in doing some sketching, where she ends up becoming a model for them. Afterwards, Konomi helps Komari and Natsumi make dried persimmons.
Since the school doesn't hold cultural festivals, Natsumi suggests they hold their own and invite the alumni, including Kaede , Konomi and Hikage. At the festival, the girls run a café, hold an art exhibit and put on a play. However, their play ends up being overwhelming and they end up slacking on food orders. They do eventually work together to prepare some food and have fun. Afterwards, Komari and Konomi help clean Natsumi's room, where they find a lot of old toys.
After sleeping through the New Year, Renge joins Kazuho, Hikage and Kaede as they decide to go up a mountain to watch the first sunrise of the year. Along the way, Kaede recalls five years ago when she was first asked to look after the one-year-old Renge, initially finding her to be quite a handful but soon taking a liking to her. They eventually manage to reach the top of the mountain and watch the sun as it rises. 
Due to a snowy blizzard, the girls end up having to spend the night at school, with Hotaru and Natsumi competing against each other to see who gets to sleep in a futon, eventually decided to just kick Kazuho out of hers. Later that night, Hotaru decides to check out the snow and see the starry night sky, leading to some misunderstandings from Komari and Natsumi. Later, on another snowy day, the gang decide to try their hand at skiing before building a snow house and having some hot food.
As Spring arrives again, Hotaru and Komari go on a picnic together, where Hotaru ends up eating Komari's botched up homemade lunch in order to not hurt her feelings. Later, the girls get together to search for some edible plants, eventually coming to a field of renge flowers where Natsumi makes a fairy costume for Renge.
Suguru wins some tickets to Okinawa in a shopping mall lottery, so the whole gang plan to go on a trip there. To prepare for the trip, the girls practice being on an airplane and go to a convenience store to buy some travel things. Meanwhile, Renge is very thoughtful about how the trip may change her view on the world, spending the evening before the trip giving her farewells to the countryside. The next day, everyone sets off on their flight to Okinawa.
Renge, who is about to start first grade, goes with the others to check out the school before the entrance ceremony, before seeing Hikage off as she goes to Tokyo. The next day, as Renge and the others enjoy the entrance ceremony and begin their first lessons, Hotaru starts moving in.
A few days after transferring in, Hotaru and the others play a game in which they try to knock each other's rulers off a table. Later, Hotaru gets lost while walking her dog Pechi, but manages to get pointed back towards home thanks to Pechi's scent. Afterwards, Hotaru goes with Komari to watch the stars together, but run into trouble when their flashlight runs out of battery before they head back. Thanks to a wayward bottle cap Komari dropped, they soon manage to make their way back home.
The girls attempt to do some studying for upcoming tests, with Natsumi ending poorly due to her slacking off. As the girls plan another study session during Golden Week, Renge tries to get Kazuho motivated so they can study.
Wanting to clear up the rain so she can ride her new bike, Renge dresses up as a teru teru bozu, which Komari mistakes for a monster. Later, Renge becomes saddened when some tadpole shrimp she was looking after die, but Natsumi manages to recover some of their eggs, which hatch into new babies.
While cleaning the pool with everyone, Komari keeps finding herself on the receiving end of various water-based mishaps. The next day, as the others enjoy a day off school, Hotaru has to stay at home while waiting for a delivery, but becomes happy when the others come to pick her up. As the girls take shelter at the candy store when it starts raining, Kaede teaches them how to make okonomiyaki.
Natsumi tries to come up with some conversation topics while alone with Hotaru, only to find her go off about an anime series that she herself hasn't watched, but she soon comes across something of interest to Hotaru. The next day, Natsumi takes Hotaru and Renge bug hunting, where she shows them a cicada nymph. Later, Hotaru invites the girls to view some fireworks with them, only to find the store has run out, leaving only a single underwhelming one. As Hotaru feels down about disappointing everyone, Kazuho takes everyone to a special place filled with fireflies.
Hotaru gets a letter from her friend in Tokyo while Hikage shows Renge her own pictures of Tokyo Tower before having to play dolls with her. Later, Hotaru ends up losing her bag on the bus, so she, Renge, and Hikage make their way over to the bus depot to look for it, coming across various sights along the way. Afterwards, Hotaru manages to work up the courage to dive into the river for a picture to send to her friends in Tokyo.
The girls do a woodwork class, where Natsumi and Renge struggle to come with an idea of what to make. Later, Natsumi recalls what happened years ago when Hikage brought in a baby Renge, who proceeded to cause chaos in her wake. On another day, Komari finds her old teddy bear and asks Hotaru to help her fix it.
Tasked with catching some fish for her garden's pond, Natsumi holds a fishing tournament with the others at the lake, where Natsumi manages to catch a large carp. Afterwards, Komari and Konomi try to dress up Natsumi to look and act more girly. Later, Natsumi and Hikage inadvertently eat some dango meant for a moon-viewing party with everyone, struggling to come up with a plan to avoid disappointing the others.
Konomi decides to pretend to be a monster to tease Renge, who seems to show a talent for multiplication. The next day, Renge decides to try riding her bike without training wheels, with minimal supervision from Kaede. As Renge ends up with a fever the day afterwards, Kaede comes over to help look after her. After Renge recovers, Kaede decides to take the day off work to teach Renge how to ride her bike.
During winter break, Komari learns how to send an e-mail on Konomi's phone, but struggles to get a signal due to her short height. Meanwhile, Hikage becomes curious as to what Renge is drawing on her New Year's cards. Later, Hotaru spends New Year's Eve at home, where she acts more like a spoiled child than she does in front of her friends.
Everyone goes to the mountain to pick bamboo shoots, with Hotaru bringing along her family's dog, Pechi. Later, the girls prepare some lunches for a flower viewing party, having to find ways to pass the time while Natsumi and Komari's mother talks with the neighbor. As everyone enjoys the party, Hotaru looks forward to spending another year having fun with her friends.
On a Winter day, Hotaru has fun creating all kinds of things with the snow, which end up triggering a chain reaction of mishaps for Komari. During Spring, Hotaru goes to the candy store by herself and ends up making cookies with Kaede. On the last day of Summer, the girls use various senses to try and give Komari a pleasant dream. Finally, during the Autumn, the girls go to the woods to collect fruit, where Komari comes up against a flying squirrel. 
Community content is available under
CC-BY-SA
unless otherwise noted.